ARTY S7 FPGA KARTI
The Arty S7 board features new Xilinx Spartan-7 FPGA and is
the latest member of the Arty family for Makers and Hobbyists.
The Spartan-7 FPGA offers the most size, performance, and
cost-conscious design engineered with the latest technologies from Xilinx and
is fully compatible with Vivado Design Suite. Putting this FPGA in the Arty
form factor provides users with a wide variety of I/O and expansion options.
Use the dual row Arduino® connectors to mount one of the hundreds of hardware
compatible shields available, or use the Pmod ports with Digilent's pre-made
Pmod IP blocks for a more streamlined design experience. Arty S7 was designed
to be MicroBlaze ready and comes out of the box ready to use with Xilinx's
WebPACK licensing.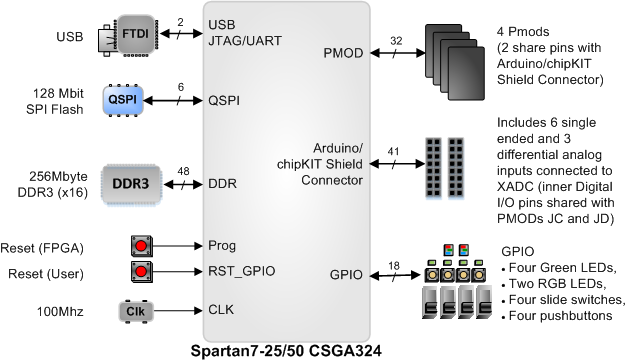 ---
| | | |
| --- | --- | --- |
| | Arty S7-25 | Arty S7-50 |
| FPGA Part | XC7S25-CSGA324 | XC7S50-CSGA324 |
| 1 MSPS On-chip ADC | Yes | Yes |
| Logic Cells | 23,360 | 52,160 |
| Slices | 3,650 | 8,150 |
| Flip-Flops | 29,200 | 65,200 |
| Block RAM (kbits) | 1,620 | 2,700 |
| Clock Management Tiles | 3 | 5 |
| DSP Slices | 80 | 120 |
Internal clock speeds exceeding 450MHz;

 

On-chip analog-to-digital converter (XADC).

 

Programmable over JTAG and Quad-SPI Flash

 

256 MB DDR3L with a 16-bit bus @ 650 MHz 

 

Powered from USB or any 7V-15V source

 

Interaction and Sensory Devices 

 

Arduino/chipKIT Shield connector
Digilent cardboard packaging with protective foam
Vivado Design Suite voucher not included – Vivado Design Suite Edition is available for free download