ZedBoard Zynq-7000 FPGA KARTI

ZedBoard  Zynq™-7000 Development Board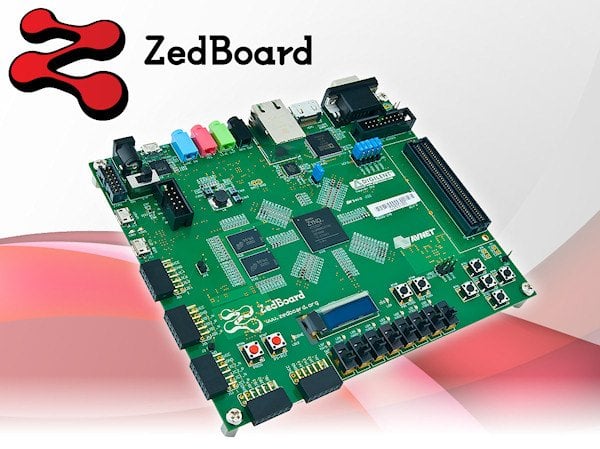 | | |
| --- | --- |
| IC: | |
| Programming: | Onboard USB-JTAG Programming |
ZedBoard is a low-cost development board for the Xilinx Zynq™-7000 All Programmable SoC (AP SoC). This board contains everything necessary to create a Linux, Android, Windows® or other OS/RTOS based design. Additionally, several expansion connectors expose the processing system and programmable logic I/Os for easy user access.
Take advantage of the Zynq-7000 AP SoC's tightly coupled ARM® processing system and 7 series programmable logic to create unique and powerful designs with the ZedBoard. The ZedBoard kit is supported by the www.zedboard.org community website where users can collaborate with other engineers also working on Zynq designs.
For more information or product support, please visit:  http://www.zedboard.org/.

  Akademik fiyat uygulaması için aşağıdaki formun doldurulması gerekmektedir.
Kutu İçeriği :
ZedBoard 7020 baseboard
12 V AC/DC power supply
4 GB SD Card
Micro-USB cable
USB Adapter: Male Micro-B to Female Standard-A
Getting Started Guide
ISE® WebPACK™ with device-locked ChipScope license
Features:
Zynq-7000 AP SoC XC7Z020-CLG484
Memory:
512 MB DDR3
256 Mb Quad-SPI Flash
4 GB SD card
Onboard USB-JTAG Programming
10/100/1000 Ethernet
USB OTG 2.0 and USB-UART
PS & PL I/O expansion (FMC, Pmod™, XADC)
Multiple displays (1080p HDMI, 8-bit VGA, 128 x 32 OLED)
I2S Audio CODEC 
Target Applications:
Video processing
Motor control
Software acceleration
Linux/Android/RTOS development
Embedded ARM® processing
General Zynq™-7000 AP SoC prototyping